Arthur Llewellyn Jones - WW1, Royal Army Medical Corps < Homepage >

Arthur was my great uncle who grew up in Pontycymmer between 1896 and 1914, the son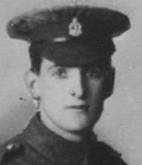 of Llewellyn and Anne Jones.
He joined the Royal Army Medical Corps in October 1914 and served in the Sulva Bay
operation near Gallipolli. He then served in Egypt, and finally in Palestine, where he was killed by a shell from Turkish artillery in May 1917.
I have put together his service career from surviving army records and from a letter that
he sent to my grandfather Brinley Jones in July 1916, which Brinley had kept until
his death in 1983, and which I am now looking after.