John Evans (1858-1930) <Back to Main Family Tree>

1858
John Evans was born in Pentre Graig, Llansamlet, near Swansea, Glamorganshire.
He was the third son of William Evans (a collier from Glyn Neath) and Rebecca Llewellyn from Llansamlet.
1861
John was 2 years old and living in Pentre Graig with his parents and two brothers: William (9) and Hopkin (7). Their father is recorded as a collier born in Glyn Neath.
1871
Living in Pentre Graig with parents, John recorded as 14 yrs old and working as a collier
1879
John married Jane Davies on 3rd November and was now living in Bonymaen, still working as a collier. He was 22 and she was 21. She was living in Pentrechwyth before she got married, and was the daughter of Evan Davies, a collier from Pontypridd (where Jane may have been born).
1881
John now working as a 'Spelterman' (zinc worker) living in Llansamlet with wife Jane and daughter Rebecca (6 mo. old). John Llewellyn (John Evans' Uncle) was staying with them - a copperman, aged 47.
Their second daughter Elizabeth was born in 1883 and their first son Evan David in 1885.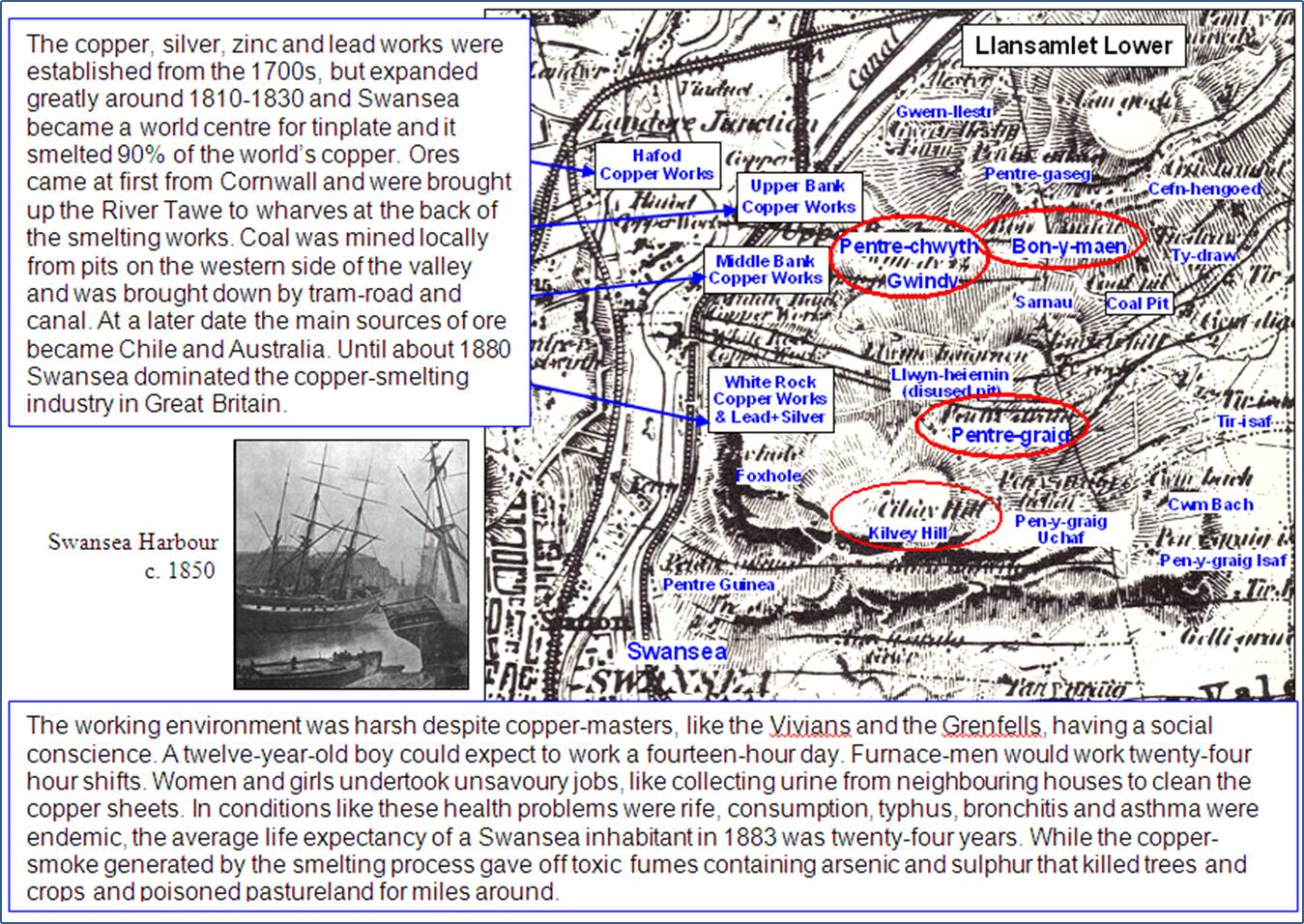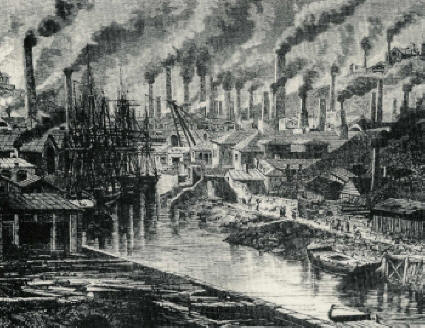 This picture shows the Hafod works on the left and White Rock on the right, c.1860, and helps to illustrate how grim the place would have been when my Evans ancestors were living and working in the area.

1886
Presumably John didn't want to stay working as a spelterman or keep his family living in these awful conditions. He may have wanted to get back to being a collier. Whatever the reason, in May 1886 (age 28) John took the drastic step of leaving his wife and three young children behind to sail to America. He was looking for work in the coal mines of Pennsylvania and sailed on the "City of Berlin" from Liverpool to New York. The voyage would have lasted about ten days and would have cost $20/£5 (about a month's wages) for accomodation amongst the other 1500 Third Class / Steerage passengers.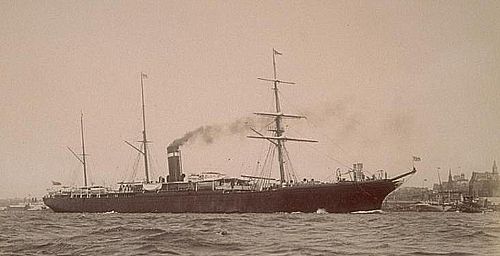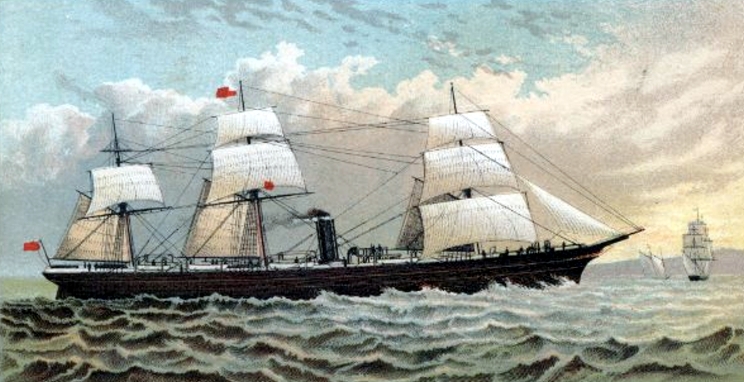 The story handed down through the family is that he came back within a year because his wife refused to go out and join him, even though he had found work in the Pennsylvania coal mines. The image below shows the kind of scene that John would have become familiar with while he was in America.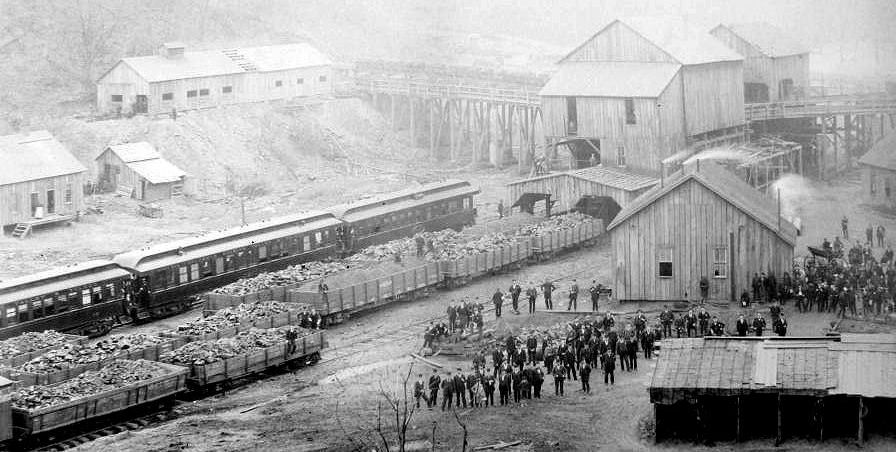 John must have returned to Wales later in 1887 as his second son William was born in 1888. Their 3rd daughter (Ruth) was born a few years later in 1890.
1891
John clearly found work again as a collier near Swansea, as is recorded in the 1891 census. He was living in Sarnau road, Llansamlet Lower with Jane and 5 children.
Their 3rd son (John) was born in 1892, Annie in 1893 and Hopkin in 1896.
1898
On 28th January 1898, John and Jane's 9th child was born - Mary Jane - she was my Grandmother.
1901
By 1901 John was a 'coal hewer', living in Cefn Rd., Bonymaen with Jane and their 9 children (their final child, Gladys, had been born in 1900).
John and Jane Moved to Pontycymmer between 1901 and 1911 for John to get work in the expanding collieries of the Garw Valley. He may also have chosen Pontycymmer because his brothers William and Hopkin were already living there.
1911
The Census for 1911 describes John as a coal miner (age 53) living in Pontycymmer at 1 Victoria St. with his wife Jane (52) and 8 children. John and Jane are described as only Welsh speaking, but their children as speaking both Welsh and English.
The picture below of Jane, with her eldest son Evan, was probably taken during the 1920's or 1930's. Evan (pronounced 'Eevan') worked as a fireman in the mines and lived with his mother ('Mam Evans') until her death in 1944.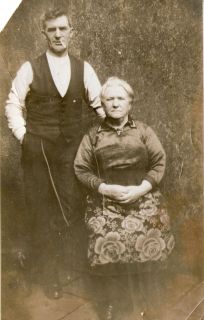 1930
John Evans sadly died of pneumoconiosis in 1930 at the age of 62.


Sources:
[1] City of Berlin reference: http://www.greatships.net/cityofberlin.html
[2] Passenger lists from: www.ancestry.co.uk
[3] Picture of Copper Works: http://www.swansea.gov.uk/index.cfm?articleid=35750
[4] Additional information on City of Berlin: http://www2.hsp.org/exhibits/Balch%20resources/destinationusa/html/body__inman.html
[5] Conversion from $ to £ in 1886: http://measuringworth.com/datasets/exchangeglobal/result.php?year_source=1791&year_result=2007&countryE%5B%5D=United+Kingdom