Thomas Williams (1774) <Back to Anne Williams Family Tree> <Back to Main Family Tree>

According to later Census records, Thomas claims he was born in Minehead, Somerset around 1774 though no record of his birth has been found in the Parish records. Thomas is referred to as a mariner or sailor in all references I've found on him and he probably started at an early age, probably 14 or 15, which was quite usual in those days.


Minehead was a busy port in itís heyday of the early 1700ís with 40 vessels registered in the port, trading in herring to the West Indies,Virginia, France, Spain and Ireland and wool, cloth and livestock to Wales. The Town Arms commemorate this trade by including a woolpack and sailing ship.
However, by the time Thomas was 17 in 1791, only 5 or 6 vessels were registered and the herring had disappeared and the port was silting up.
Remaining trade was primarily with Wales for cattle, sheep, wool, butter, fish and coal.

In 1791 a serious fire burnt down much of the lower town which the local landowners (the Luttrells) did little to repair for many years. With the decline of the port, the population fell from c.2000 people in 1790 to less than 1500 in 1830.

Against this background, on 5th November 1800 ( at the age of 26) Thomas married Mary Heard as recorded in Minehead parish marriages.
Interestingly Thomas and Mary had no children from the time they got married in 1800 through to 1808 (after which they had eight children).
Presumably he was away from home for many years - possibly pressed into the Navy during the Napoleonic War which was at it's height at sea during that period.
He was, however, home for a time in 1802 when on 3rd April he and Mary signed a conveyance to sell Mary's 1/3 share of a recent inheritance to her uncle for £35.

Copy of Conveyance obtained from Somerset Records DD\X\MIL/1:
Contents: Thos.Williams of Minehead, mariner, and w.Mary to Thos.Norman of Kingsbrompton, yeoman. Recites:
(A) that John Heard of Exton, decd. was possessed of: a dwellinghouse called Moores Cottage, cont. 2 under rooms, 2 chambers, a garden, orchard, and 1 ac. ground with the appurtenances in Withycombe, in occ. of Thos.Milton.
(B) Will of the sd.J.H., devising equal shares of property to grandchdn. Thos. and Mary Norman (chdn. of Thos. Norman, party hereto) and Mary Heard (now w.of Thos.Williams). In one third part of ppty. (as recited). Witn: John Snow, Jno:Bryant.

Thomas and Mary had their first child named Thomas Heard (Williams) on 16th April 1808. ( by 1851 Thomas Heard was still in Minehead working as a labourer with a wife and four children).
Their second son was William, my ancestor, born on 23rd January 1811.
Their third son John was born in 1812 but only lived for 11 months.
In 1814 (age 43) Thomas is described as a Mariner at his son John's baptism and at all subsequent baptisms.
On 22 Aug 1818 Isaac was born. He also stayed in Minehead and followed his father in being a mariner. He married Diana Ward and they had 3 children.
In 1820 Thomas and Mary had their only daughter, Elizabeth, born on 1st January.
Two more sons were born in 1821 (George) and 1822 (Charles). Sadly, Charles only lived for 10 weeks.

In the 1841 Census, Thomas is not recorded as being at home with his wife and daughter so he was probably at sea, even though he was 67 yrs old, possibly working as a ship's cook. Thomas probably spent the majority of his sailing career on relatively small schooners and brigs, mainly working around the coast of Britain but possibly trading to Europe, the Meditteranian or even further afield. A description of what much of his life at sea may have been like is given in another part of this site describing my Great Grandfather John Jenkins' life <John Jenkins Story>.
The pictures below (taken around 1900) give an impression of how Minehead harbour and nearby streets would have appeared to Thomas.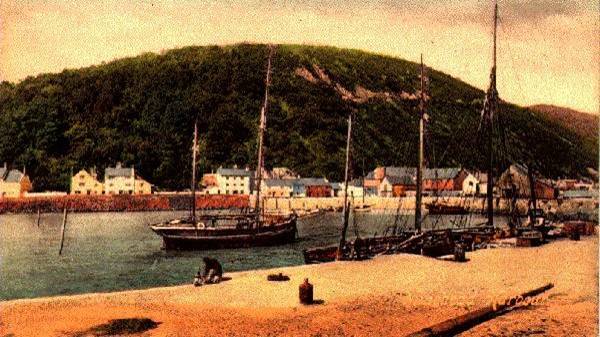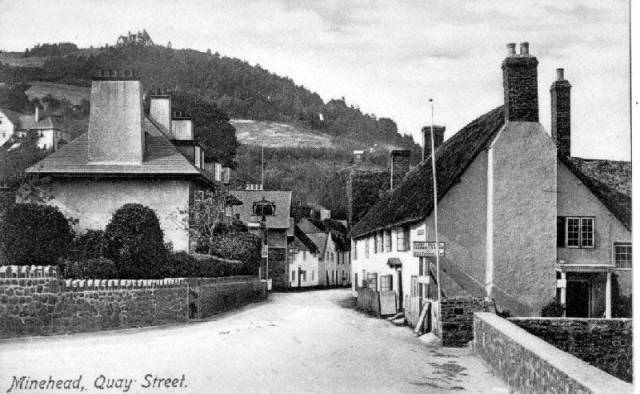 Thomas at the age of 75 (1849) is mentioned in a book about Minehead (ref 2) which refers to "loyal tennants of the landlord (Luttrell) being allowed to run their rents into arrears and, if circumstances deserved it, forgiven their debts".
One of these was Thomas Williams "whose labour was done".

By 1851, Thomas, now aged 77, was living in an Alms House in Market Place (now Market House Lane) in Minehead with his wife Mary (she claimed to be 72). Thomas is described as a pauper, previously a seaman. It is obvious that Thomas and Mary never had much money and they must have scraped by through most of their lives.





Thomas died in Minehead on 1st June 1860, aged 88. The death certificate was signed (by mark) by Dianna Williams (wife of their son Isaac) who was present at the death. Thomas' occupation was decribed as sailor in the Merchant Service.
Six weeks later Mary also died (on 15th July).
References:
1. Pictures of Minehead and additional information from http://www.minehead-online.co.uk/history.htm
2. Minehead a New History, Binding & Stevens, 1977, p197