David Jones (1773-c.1855) <Back to Llewellyn Jones Story> <Back to Main Family Tree>


David Jones was born in 1773 in Blaenpennal, Cardiganshire. He was a hatter & agricultural smallholder.
He married his wife Jane in c. 1810 at the age of about 35. He died after 1851 at the age of 78+.
1811
David and Jane's first son - Morgan - was born in 1811. He lived until 1883 and had three sons of his own (David, William and Elias)
1813
Their first daughter Eleanor was born in 1813 and baptised on 13th April. David's occupation recorded as Hatter living in Maesllyn Blaenpennal.
1814
Gwen was born on 1st October 1814. David's occupation was recorded as a Hatter living in Cockin/Cethin? Blaenpennal.
1816
David and Jane's second son Elias was born in April 1816. Elias was my great-great-great grandfather. He became a tailor and married Margaret Edwards in 1835 but sadly he died of consumption (tuberculosis) one month before his third child (also called Elias) was born in 1840.

1841
David is recorded in the census as a Hatter, age 65, living with wife Jane at Gwar-y-geulan house, Blaenpennal.
They were living with their eldest son Morgan & his wife Margaret & their son David (6 wks old).
(More can be found about David Jones at the following site: http://sites.google.com/site/simonsaville/Home/8---welsh-connections )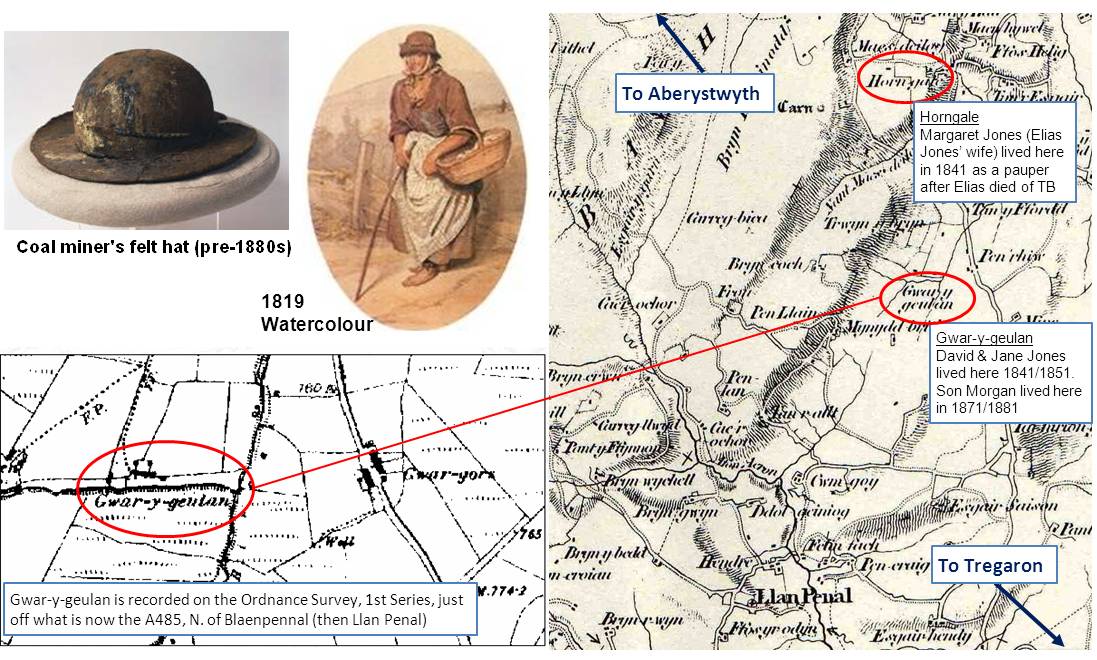 1842
The Tithe maps show David paying rent for 7 acres north and west of Gwar-y-geulan – a mixture of arable, meadow and pasture land. He also paid rent for an area of 7 acres of meadow and pasture called Rhosgoch.
He paid 3s 3d to Hon. George Lawrence Vaughan (Earl of Lisburne) and 3s 3d to Richard Price Esq.


Gwar-y-geulan

Rhosgoch

acres

rods

perches

acres

rods

perches

Arable

1

25

Arable & Meadow

4

1

30

4

3

31

Pasture

2

18

2

2

32

Total

7

2

33

7

2

23
[note: 40 perches to a rod (or rood) and 4 rods to an acre]


1851
David was recorded in the 1851 Census as a Labourer (at the age of 78!) still living with his wife at Gwar-y-geulan.
He does not appear in the next census so he presumably died in his early 80's.



In the mid 19th Century Blaenpennal (formerly Llan Penal) was a rural community of c.500 people about 10 miles south of Aberystwyth.
Of the 82 trades, professions or employments listed on the 1841 Blaenpennal Census 15 were hat makers.
(of the others:- 34 were farmers, 14 labourers, 5 tailors, 3 shoe makers, 2 masons and 1 each: blacksmith, carpenter, weaver, chair maker, carrier, miller, shop keeper, publican and Methodist preacher).
Hat making had become popular because of the availability of peat. This was used to fire the boiling cauldrons of water and vitriol, in which the felt hats were continually dipped as they were formed into shape on a wooden former.
A number of workers (journeymen) would make the hats up to a certain stage in the process and then pass them on to a master hatter for finishing and selling.
Hats from Ceredigion were sold throughout Wales. As many as six dozen hats were packed into a huge box and strapped to the hatter to take to market & each would have sold for about 10s (~£40 now).
By the beginning of the nineteenth century, though still comparatively expensive, hats were worn by most women, at least to chapel or church, or to market, but the fashion died out by the middle of the century.
Felt hats were also used by the men, particularly in the slate & coal mining industries in North & South Wales, since the hats were strong and durable.
Between 1840 and 1850 hat manufacturing in these rural villages of Cardiganshire died out, partly due to falling demand, and possibly due to the enclosures acts restricting free access to the peat bogs for fuel. By the 1850s there was only one remaining hatter working in Blaenpennal.



Sources:
"The Hatters of Llangynfelyn" by Gwyn Jenkins http://www.llangynfelyn.org/dogfennau/hetwyr_saesneg.html
National Library of Wales: 1842 Tithe map of Llandewibrefi Parish - Blaenpenal Township / Chapelry
www.ancestry.co.uk