My Own Memories of Pontycymmer (Alan Jones) < Back to Llewellyn Jones >
My memories of Pontycymmer are mostly limited to my childhood when my parents took me for visits to my Nana
and Dadcu – Mary Jane and Brinley Jones.
They lived at no.2 Brynhyfryd at the edge of the housing on the east side of the valley, right at the top with the hillside behind them.
The right turn off Oxford St. to start the seemingly vertical ascent up Richard St. always impressed me. It was usually accompanied by a rocket launch count-down (it was the time of the Apollo missions) followed by the scream of the little Ford Anglia engine pulling us up the hill in first gear until it thankfully subsided as we turned into Brynhyfryd.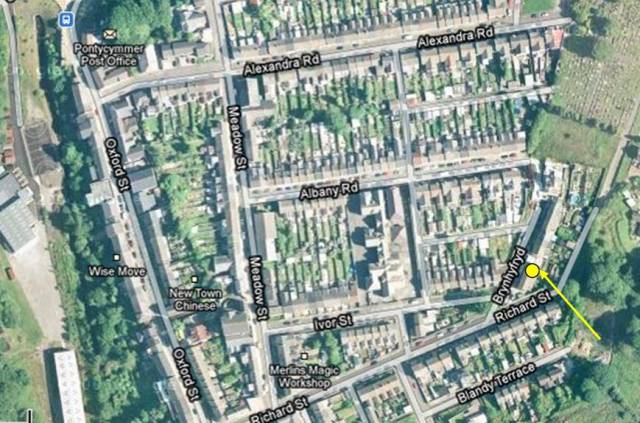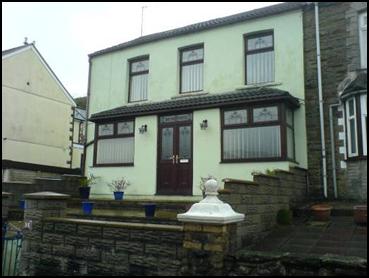 My grandparent's house looked over the valley and I remember sitting inside on the deep, low window recesses, looking down at the collieries and watching the spoil buckets travelling up the opposite hill on an aerial cable system to drop their loads before coming back down.
It was quite a large house but the two front rooms were barely used – especially the best room or Parlour (on the right in the picture) which was only to be used on special occasions. I don't remember it ever being opened up when I was staying and it was always freezing cold in there and a bit creepy.
The hub of the house was the warm living room at the back with its iron range built into the end wall and a conservatory-style kitchen off the other end. This is where Dadcu could usually be found sat in his favourite armchair, while Nana busied herself around the house and the kitchen.
The only time I remember much activity from Dadcu was when Nana spotted a sheep that had jumped over the wall at the top of the steeply terraced garden. She would yell "Brinley there's a sheep" and he would spring into action, grabbing a broom on the way, and eventually evict the poor animal before it had chance to eat too many vegetables and flowers.


I took my father, Rufus Jones, back to Pontycmmer a few years ago. He pointed out some of the places from his childhood and we visited his grandfather Llewellyn Jones' grave in the cemetery at the top of Alexandra Rd.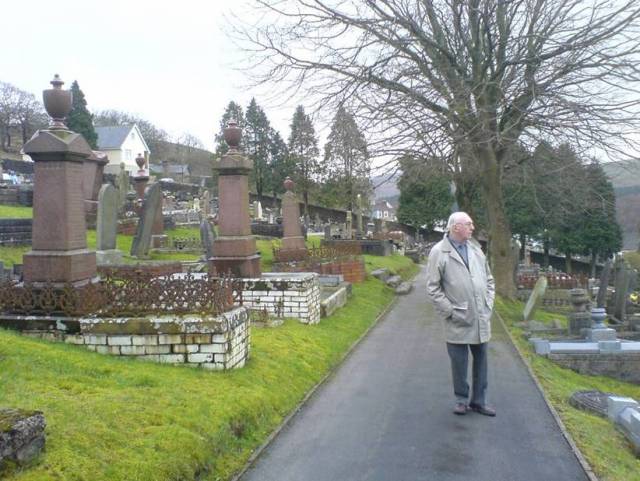 The previously bare hillsides, with the ugly spoil tips on top, have now been covered in trees and it looks a lot greener now, with nothing remaining of the collieries that once dominated the town.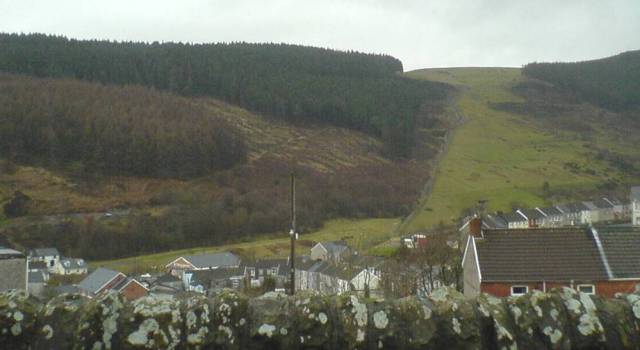 No.2 Brynhyfryd is clearly still lived in with a lot of development at the back of the house and in the garden.
I wonder if they still have sheep jumping over the back wall.