Percy Lewis - WW1 South Wales Borderers < Homepage >

Percy Thomas Lewis was born on 2nd July 1896 at Lower Hendre Farm (Hendre Isaf).
His parents were William and Annie Lewis and he had two older brothers (Oswald, 3ys older and John Jacob, 1yr older).
Percy's mother Annie sadly died when he was only one year old and he would have been brought up by William's second wife Jane.
In 1901, aged five, Percy was still living at Hendre Isaf with Jane, his father William (farming cattle) and his brothers together with his grandfather John Lewis. They also had two servants living with them.
This strangely posed photo shows Percy (on the right) with his brothers Oswald (left) and John, my grandfather, in the middle.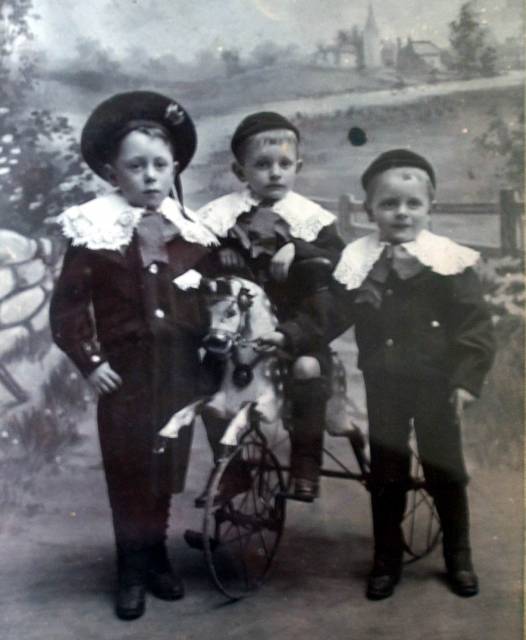 When Percy was eight years old, his step mother Jane also sadly died. His father William re-married again two years later to Margaret and by 1911 Percy was fifteen and living with her at Ty R Ewen, Goytre (just south of Hendre Isaf) with two servants. His father was still farming at Hendre Isaf with Percy's elder brothers. Also in 1911 Percy passed his Oxford Local Examination as a Junior Candidate in a wide range of subjects including Maths, English, French, History, Geography and Religious Knowledge in which he earned a Distinction.
Percy went on to work in the Civil Service and was referred to in the London Gazette on 4th May 1916 as having become an "Established Clerk to Surveyors of Taxes" [1a]. He may have moved to Cardiff, as this is where he was residing when he joined the army in 1917, according to one reference [1b].
The only other information I have about Percy before he joined the army is this picture taken at his brother Oswald's wedding on 30th September 1916. They were married at Hanover Chapel, Llanover. It shows Percy on the left, Oswald next to him with his new wife Alice Jonathan, her father William and sister Elsie, and my grandfather John Jacob Lewis.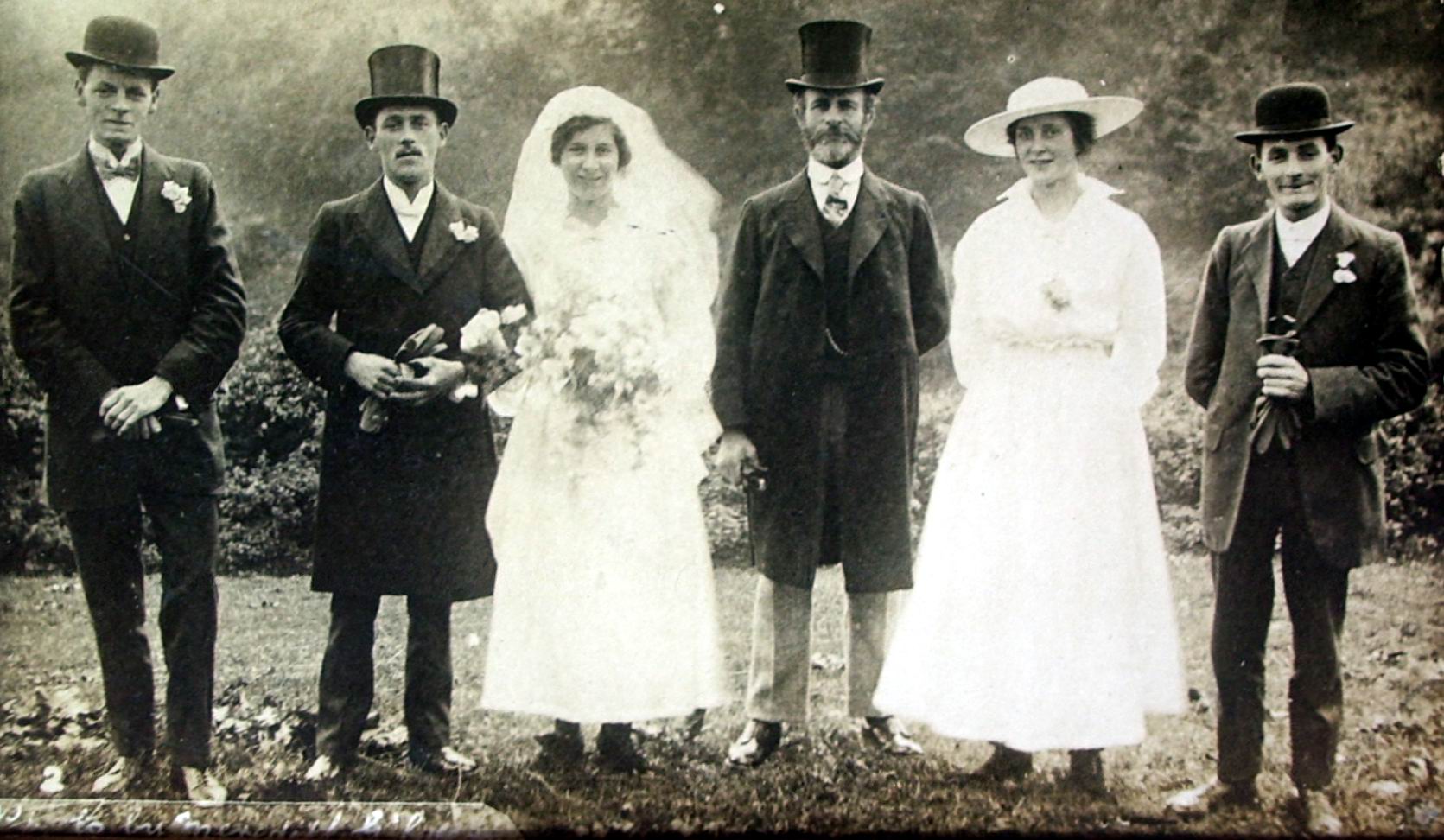 Not long after this photograph was taken, Percy joined the army early in 1917 when he was twenty one years old. Presumably Percy was conscripted as this was now over two years since the war had started. According to his medal card (see below) Percy joined the 2nd Battalion, Monmouthshire Regiment which was serving in France as part of the 29th Division. His Regimental number was 267913, part of a sequence of numbers issued from 1st March 1917 [2].
The 2nd Battalion, Monmouthshire Regiment had been converted to a Pioneer Battalion by this point in the war and joined the 29th Division in May 1916. Years of trench warfare had highlighted the need for each Division to have a Battalion specialised in digging trenches. They were especially used in preparation for major attacks, by improving approaches to assembly positions and creating 'kicking-off' trenches. After an attack their role was to dig-in a new front line; convert captured German trenches; dig communication trenches across No-Mans-Land and put up barbed wire in front of the new positions [3]. Pioneer Battalions were typically picked from mining areas and therefore specially adept in the use of pick and shovel. They were still infantry units, however, and could also be deployed in a fighting role. They would also have been involved in tunneling operations to place mines under the enemy trenches.
The training period for infantry was not very long at this point in the war - typically 2 months in the UK, followed by a period in harsh 'base camps' in France. It is likely that by the summer of 1917 Percy would have been posted to join his unit, possibly joining them while they were in a rest area. The 2nd Mons returned to the forward area on July 29th in readiness for the Third Battle of Ypres which opened on 31st July.
The 29th Division historian wrote of this battle: "By universal consent, the Third Battle of Ypres represents the utmost that war has so far achieved in the way of horrors ... the cramped theatre with its slimy canals, becks, sloughs, bogs and inundations, its shelled duck-board tracks, its isolated outposts, its incessant shelling and incessant rain, its mists, its fogs, its corpses and its pestilential miasmic odours outdid anything that the Somme or Arras could boast and it dragged on from the 31st July till the 10th November 1917. The craters were more numerous and the mud was deeper. There was also the added horror of mustard gas that could cling about a dug-out for days."[4] Under such conditions the 2nd Mons existed for five months, seldom out of range of the enemy's artillery, for even when the rest of the Division was relieved from time to time, its Pioneers remained behind to assist other divisions.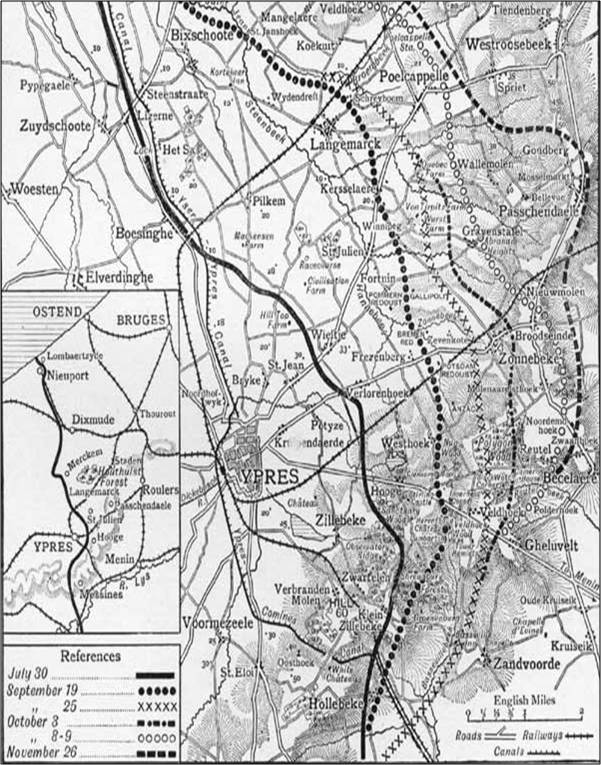 The 2nd Mons were involved in the attack on Pilckem Ridge, north of Ypres, supporting the Guards Division by clearing the road from Boisinghe to Pilckem while under heavy shell fire. When their own 29th Division was relieved by the Guards on 8th August, the 2nd Mons stayed on, supporting the attack on Langemarck. The whole area was inundated by the effective damming of the Steenbeck by the shelling, causing it to spread from its normal 10ft wide to over half a mile wide. It was the 2nd Mons who helped create a system of narrow duck-boards bridging the huge water-filled craters, by laying them on piles driven deeply into the mud. The images below give some impression of the conditions.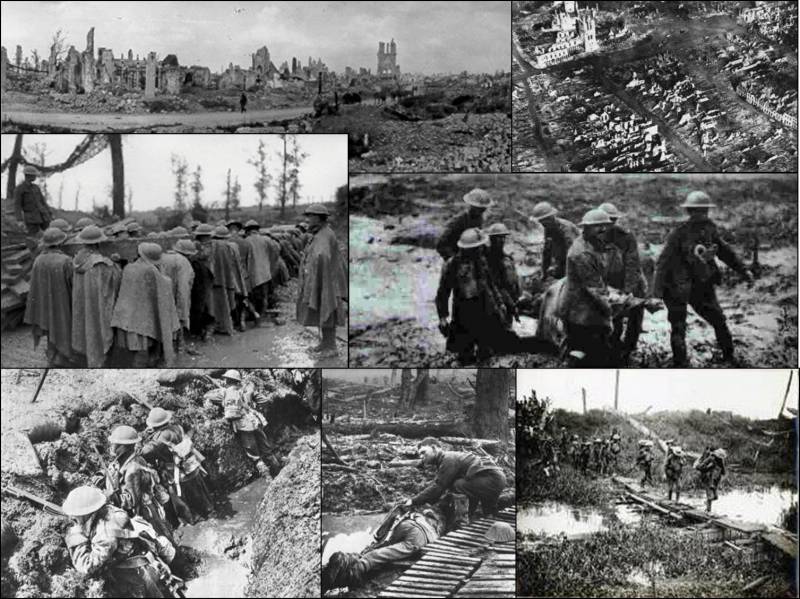 It's horrifying to think of Percy enduring these sort of conditions, and a possible clue that he struggled is given by the fact that he seems to have switched to the 1/5th Liverpool Regiment and then to the 10th Battalion South Wales Borderers [5]. Both these units were involved in the battle along with the 2nd Mons - the only point when all three battalions were together [6]. Perhaps Percy wasn't suited to the arduous physical labour of the pioneers, or maybe he was slightly wounded and, when recovered, sent to fill the gaps in the ranks of the South Wales Borderers. Unfortunately Percy's war records do not seem to have survived so we can only speculate.

Assuming he did transfer to the 10th S.W.B. during the 3rd Battle of Ypres, he would have joined them in moving south to Armentiers after the battle of Langemark in late August 1917.
In this sector, according to the South Wales Borderers Museum factsheet (B15), the 10th S.W.B. "...undertook patrol work in which they took prisoners, made valuable identifications, and generally kept the German patrols under by their determined action. On the night of the 7th/8th November (1917) the 10th carried out a big raid by 10 officers and 270 men on a front of 300 Yards. They penetrated 200 yards into the defences, blew up three concrete dugouts, killed at least 50 Germans and took 15 prisoners, at a cost to themselves of five killed and 45 wounded."
More to add here ....
Sadly Percy was killed on 2nd July 1918 by German shelling of the 10th South Wales Borderers headquarters. The Battalion had just moved into reserve the day before and they were approximately seven miles behind the front line at Lealvillers. He died on his 22nd Birthday.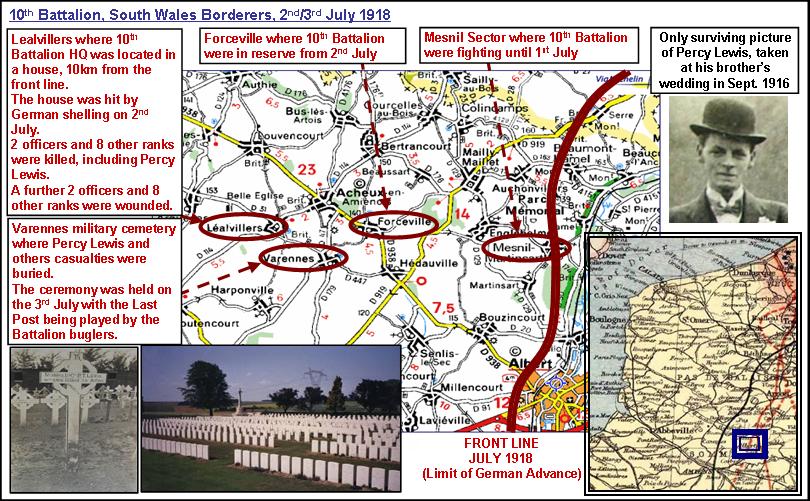 Percy and the other nine fatal casualties were buried at Varennes military cemetary as shown below.
Those killed were: Pt Harold Hulse; Pt. Eli H Silk; Capt. William L G Foster; Capt. Arthur John Evans; Sgt. William E Dray; Pt. William R Whisken; Pt. Alfred Beard; L.Cpl. William E M Davies and Pt. Frank Murphy.
Two of the wounded were: Lieutenant E.A. Travis and Lieutenant & Quarter Master M. Whitworth.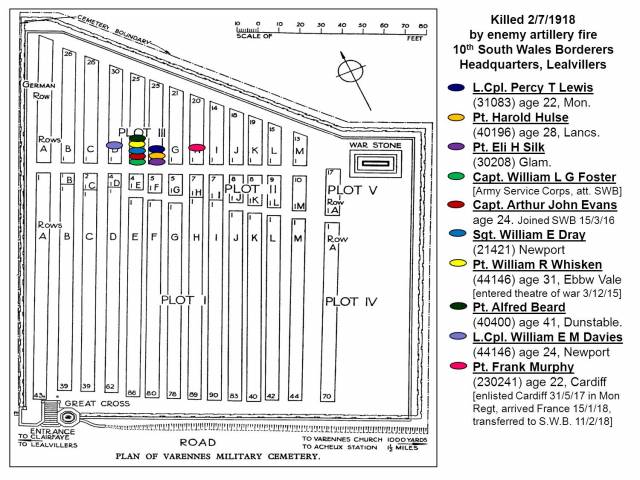 Medal Card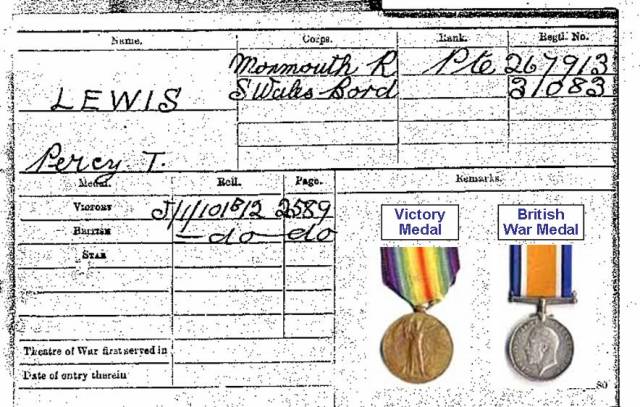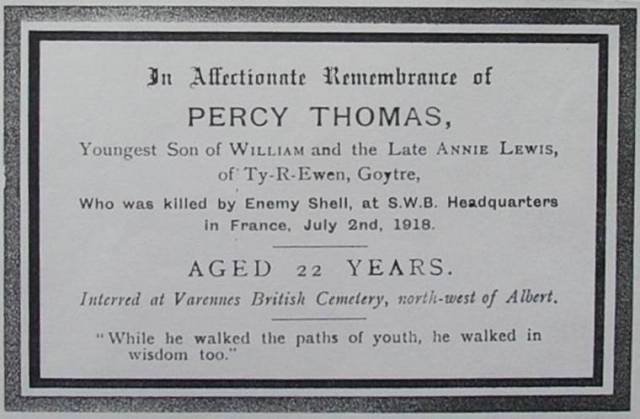 References and notes:
[1a] http://www.london-gazette.co.uk/issues/29534/pages/3573/page.pdf
[1b] Reference to living in Cardiff comes from the www.ancestry.com version of "Soldiers died in the Great War". The original website for "Soldiers Died in the Great War", however, says he enrolled in Cardiff but lived in Pontypool, Mon (presumably Ty R Ewen, with his parents).
[2] Information kindly provided by Martin Everett, Curator, The Regimental Museum of The Royal Welsh (formerly South Wales Borderers), The Barracks, Brecon LD3 7EB
[3] See pages 50-51, "A History of 2nd Battalion, The Monmouthsire Regiment", compiled by G.A.Brett, 1933 - Published by The Naval & Military Press.
[4] Page 79, "A History of 2nd Battalion, The Monmouthsire Regiment", compiled by G.A.Brett, 1933 - Published by The Naval & Military Press
[5] Percy's medal card shows that he was in the Monmouthshire Regiment (267913) and the South Wales Borderers (31083) and his reference in "Soldiers Died in the Great War" includes a comment that he was 'Formerly 216080, Liverpool Regiment' unless this was a mistake. Martin Everett (see ref 2) again kindly helped me identify from the Regimental numbers what battalions Percy served in.
[6] Locations of the various units through the war found at The Long, Long Trail, www.1914-1918.net - Battle of Ypres.
[7] War diary of 10th Battalion, South Wales Borderers, June/July 1918, kindly shared by the Regimental Museum of the South Wales Borderers, Brecon.
The first three pages describe the activities of the battalion in the Mesnil area at the end of June before they were taken out of the line. The last two pages describe activities in early July including the shelling of the headquarters buildings when Percy was killed along with 2 officers and another 8 'other ranks'.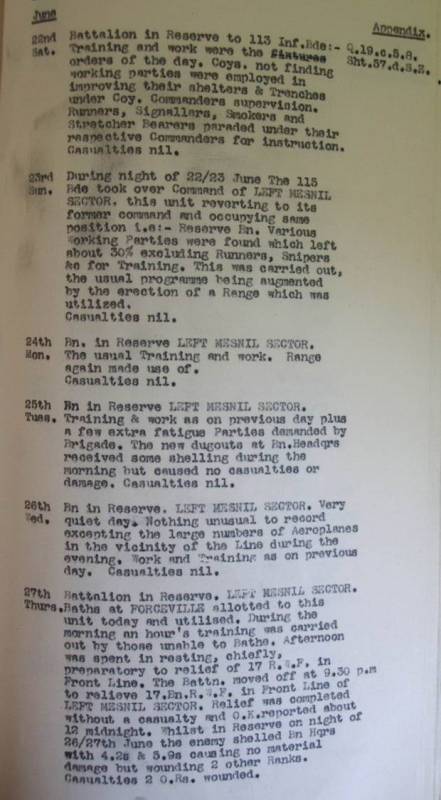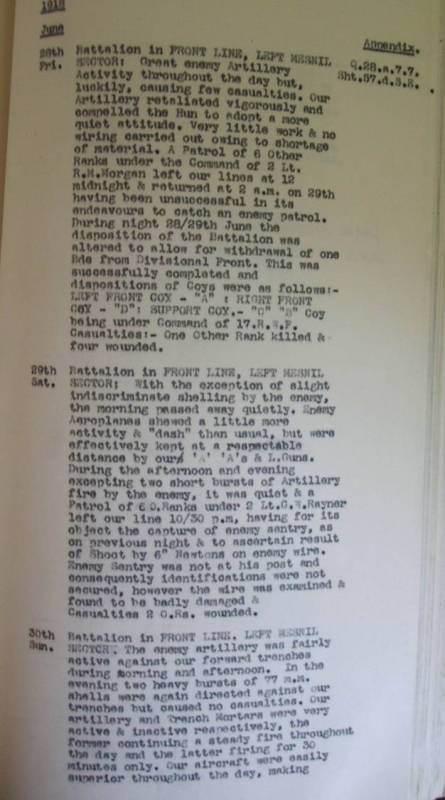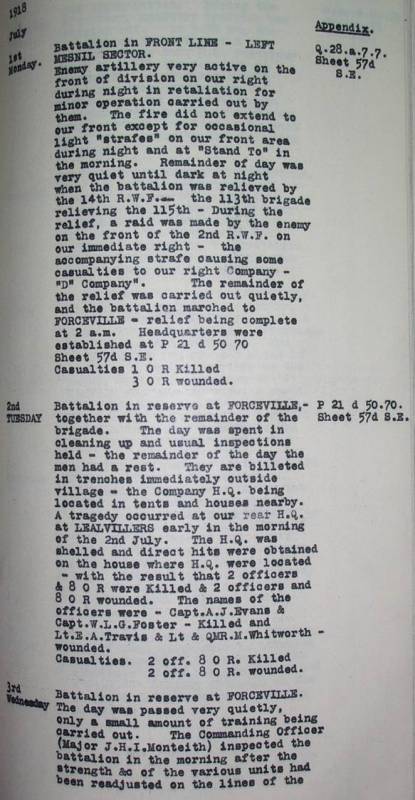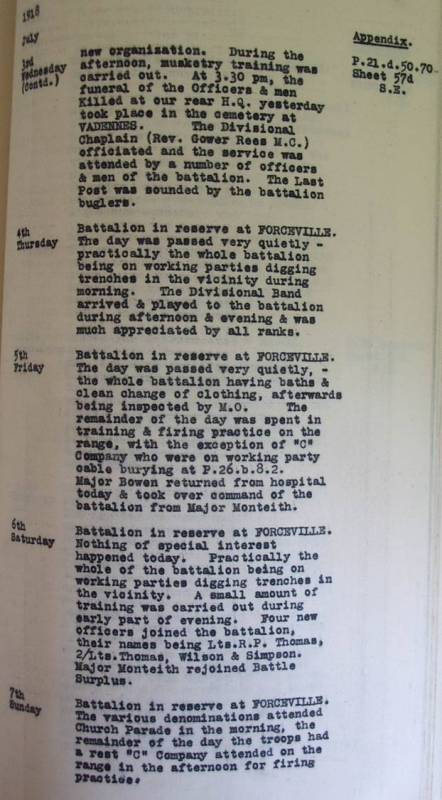 [8] History of the South Wales Borderers, P439+P440