John Lewis (1825-1911) <Back to Main Family Tree> <Back to William Lewis Family Tree>

John Lewis was born on 6th March 1825 at Ysgubor Aur Farm in Llanellen, nr. Abergavenny, Monmouthshire.
John's father was also a John Lewis who was an agricultural labourer born in 1790 in Llanellen. His mother was also born in Llanellen. Sadly both of John's parents died when he was a young child and he was brought up in the Vicarage, at Church Farm and at Pentaler Farm. John's grandfather was Lewis Lewis, born around 1760.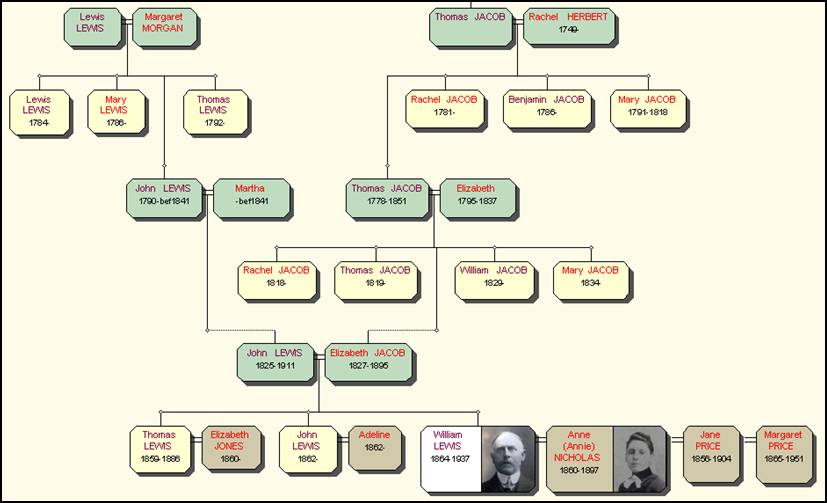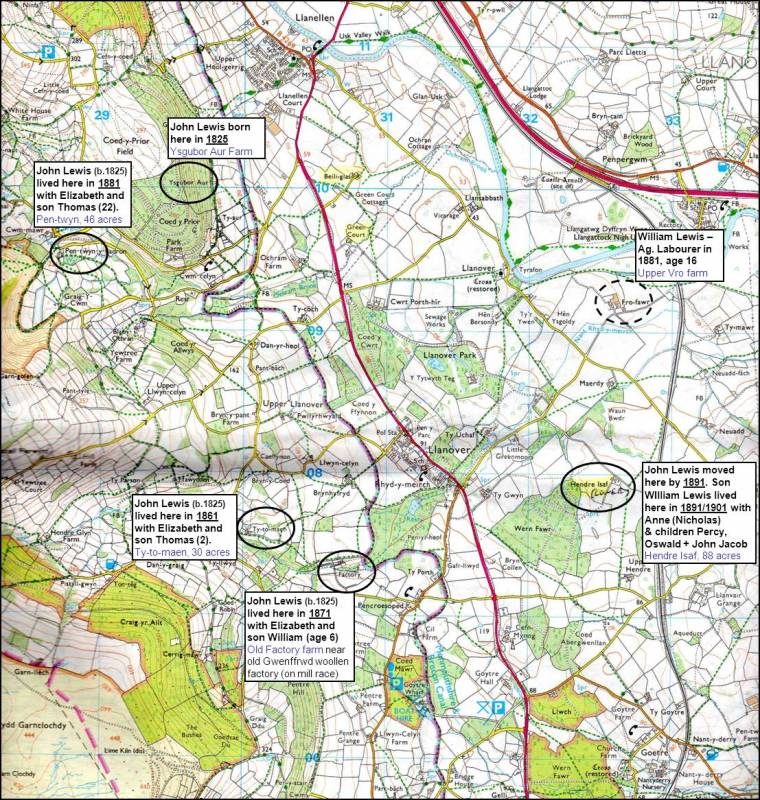 1841
Possibly servant (age 16) to John Phillips at Lower Hendre (which he later came to own)
1851
Can't find John on this census
1857
Married on 19th May to Elizabeth Jacob. John describes his occupation as 'husbandman' on Marriage cert. Father's name on certificate - John Lewis (deceased, Ag. labourer). The witnesses were Edwin Lewis and Julia Jones. Neither John nor Elizabeth could write as they made their 'marks' on the certificate.
1861
John is now a farmer (age 36) at 'Ty to Maen' Farm, Llanover, 30 acres, living with Elizabeth (37) and son Thomas (2)
1864
Living at Old Factory farm, Llanover where his son William was born - as recorded on birth certificate
1871
Living at Old Factory farm, Llanover, with Elizabeth (45), Thomas (12), John (9) and William (6) + a general servant
1881
Pen-twyn Farm, Llanellen, 44 acres, living with Elizabeth (53) and son Thomas (22) and a servant. His son William was now 16 and working as an agricultural labourer at Upper Fro Farm.
1891
Lower Hendre (Isaf) Farm, Llanover, 88 acres, living with Elizabeth (66), William (26) + 2 servants
1895
John lost his wife Elizabeth. She was 70 years old.
1901
Hendre Isaf Farm, Llanover, living with his son William (36) and William's first wife Jane and their children Oswald(7), John(6) and Percy(4) + 2 servants.
1911
At the beginning of April John was still living with his son William and grandchildren at Hendre Isaf farm, but on 17th April John died at the age of 86. The funeral was held on 20th April at Llanwenarth Baptist Burial Ground, Rev. D. Davies (of Hanover church) officiated.

John's Obituary was recorded in the Abergavenny Chronicle for 28th April 1911:
"Death of an old resident - early on Monday morning, 17th, after a few months illness, Mr John Lewis of Hendre Isaf farm passed away in the 88th year of his age. Born at Ysgubor Oer farm in the parish of Llanellen and through the removal of his parents when he was yet a mere infant, he practically spent all his long life in the parish of Llanover living successively at Llanover Vicarage, Church Farm, Pentaler, Old factory, Pentwyn and Hendre Isaf. Sixteen years ago Mr Lewis became a widower, since which time he has found an affectionate and unfailing support of his old age in his only surviving son Mr. William Lewis.
On Sunday morning 19th Feb 1905, during the revival wave, the deceased, with some 36 more, was admitted into membership at Hanover Congregational Church, in the fellowship of which he continued faithful up to the time of his death.
By his death the neighbourhood has sustained the loss of an unaffectedly amiable and loveable personality and the snapping of an interesting link with its past."

A long list of mourners followed (including David James of Green Court, brother-in-law of John Jenkins )
and a wreath was sent by the Hon. Mrs Herbert of Llanover.