William Lewis (1864-1937) <Back to Main Family Tree>

William was born on 21st October 1864 at 'Old Factory' Farm, Llanover, south of Abergavenny, Monmouthshire.
His parents were John Lewis (1825) and Elizabeth Lewis (1827) both of Llanellen, Monmouthshire.





1871
In the Census for this year, William is six years old and living with his parents John & Elizabeth in Old Factory Farm, Llanover (see map on his father John Lewis' page)
1881
Age 16, described as a servant working for William Jones, Upper Vro Farm
1891
William aged 26, back living with parents at Lower Hendre Farm and now married to Anne Nicholas from Mynyddyslwyn. She had nine siblings and had moved with her parents Joseph and Elizabeth to nearby Maerdy Farm before 1871.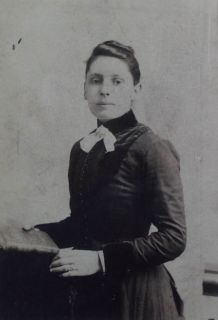 William and Annie were married on 27th May 1891 and had three children over the next 5 years, but then in 1897 Annie sadly died.
1901
Living with his father John at Hendre Isaf (lower) Farm with new wife Jane Price and three children from previous marriage + two 16yr old servants. They were keeping cattle and Jane was described as housekeeper and dairy maid.
1904
William's second wife Jane died in the summer of 1904.
1906
William married his third wife, Margaret Price.
1911
Farmer living at Hendre Isaf, Llanover, with father + John Jacob + Oswald + servant (Edithe Mary Phillips)
1918
Address Ty-R-Ewen, Goytre, Mon. where Margaret had been living in 1911 census with Percy
1937
William died on 5th April and the Will probate of 7th May (London) stated - "effects of £1000 left to Margaret Lewis (widow) and Oswald Lewis (farmer)"