Norman Lewis (1921-1944) < Homepage >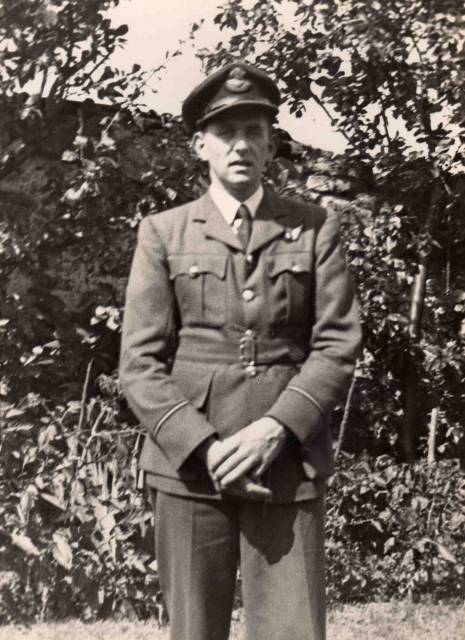 Norman was the eldest son of John Jacob Lewis and Catherine Jenkins.

He was born in Abergavenny in Monmouthshire on 14th March 1921 and trained at Usk Agricultural college.

He enlisted in the RAF in April 1941 but continued working in the greenhouses at Ruthers fruit farm in a reserved occupation until June 1942 when he was called up for active service.
Norman <trained for 2 years> (including 9 mo. in Alberta, Canada) to become a Flying Officer bomb-aimer and joined 103 Squadron (<Lancasters>) at Elsham Wolds 1st. July 1944.
His <crew> consisted of the Pilot (Lawrence Westcot); Navigator (Allen Tebbutt); Wireless Operator (James Cruickshank); Flight Engineer (Ernest Bull) and Air Gunners (Norman Burgess and William Voellner).

They flew on <11 missions> over Europe, some of them over the cities of Germany, some in support of the recent D-Day Landings and some against V-Weapons sites in France.
I have tried to assemble the story of a typical bombing mission (from a number of sources) to get some impression of what Norman would have experienced: <mission>.
Sadly, Norman was killed with all the crew when their plane crashed on 26th Aug 1944 at RAF Ford in Sussex while attempting an emergency landing after returning damaged from a bombing raid to Russelsheim.

The <crash investigation> showed that the plane had been damaged by british ammunition so it is likely that gunfire from another Lancaster had hit their plane in the dark and the chaos of fighting off German night fighters. That last raid was described by another pilot from 103 squadron - <Flying Officer Vernieuwe> - who mentions the loss of Norman's plane.

Norman's loss was greatly felt by the family, with the innevitable thoughts of what might have been if he had survived. Unfortunately his chances of surviving a complete tour of duty (30 misssions) had only been around 50:50 given the appalling losses suffered by the crews of RAF Bomber Command.