John Nicholas (1783-1873) <Back to Main Family Tree> <Back to Ann Nicholas Family Tree>


John was born in Llanfabon Parish, Glamorganshire, South Wales at the end of 1783. He was Christened on 28th January 1784.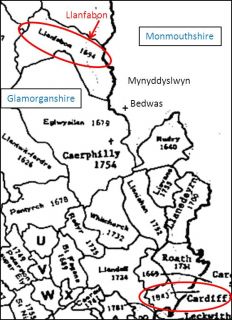 John's parents (according to IGI) were Margaret and William Nicholas of Llanfabon Parish.
1810
John married Ann Walters from Gelligaer, Glamorganshire, on 17th November 1810 in Bedwas, Monmouthshire (see map above).
He was 27 and she was 19.
They had the first of twelve children the following year (see family tree diagram under Ann Nicholas section - link at top of page)
1841
John is recorded as a farmer (age 58), living at 'Penyquary', Mynyddyslwyn (on the border of Monmouthshire and Glamorgan) with his wife Ann (age 50) and 9 children. (modern name of farm - Pen-y-cwarel, 1 km N.W. of Ynysddu, 6km N. of Caerphilly)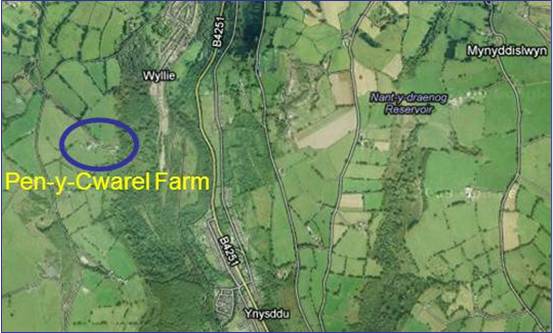 From a visit a few years ago by another descendant (Elaine Williams), the following was communicated to Phyllis Poynter and passed on to me:
"It is now
known as Penychwarel Farm. We were told that the family bred and "broke in" welsh mountain ponies for the Pit.(colliery). They did this by riding them through their pond and muddy banks until they were broken

... it

is said that they bred ponies for the pits and broke them in on the farm by forcing them through a pond and all the marshy land around (it's not there now) so the stables must have been very important. Also the family were great followers of the hunt and horses would have been very important for this. It's thought they also kept a pack of hounds for hunting so they must have had a lot of money."


1851
Farmer of 180 acres , living at Penacwarra farm, Clawr Plwyf Hamlet, Mynyddyslwyn.
Living with wife, 4 sons (John, Rees, Daniel & Llewelin) - all of them recorded as "assisting on the farm" and 2 daughters (Margaret & Sarah) "assisting in the house".
John claims born in Llanfabon - ties up with IGI record for parents
1861
Farmer of 170 acres, age 88, living at Pen y cwarra farm with wife, daughter Sarah and sons Rees and Llewellin
1871
Farmer of 190 acres at Pen y quarry farm with wife + Rees, Llewellin and Sarah + 3 grandchlidren [Joseph(23); William(11) and Mary(9) ]


1873


John died on 31st March 1873 at the age of 90.
On 14th Oct. his will recorded effects "under £1000". Rees Nicholas, farmer, son & sole executor.
Ann died 2 years later on 5th May 1875 at the age of 84.
They are both buried at Hengoed Church Cemetery. John and Ann Nicholas share a 4-sided monument with William Lewis (1751-1841) and his wife, Ann (1756-1841) who were from Gellegaer Gwelt Parish in Glamorgan Co., Wales.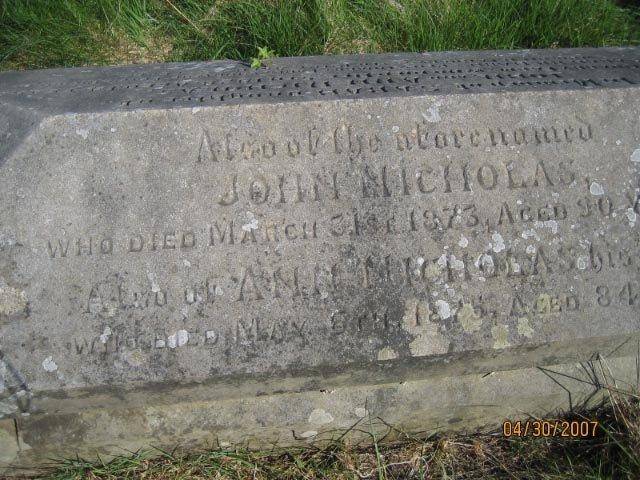 The following is a brief summary of what I've found regarding John and Ann's children:
Walter Nicholas: b.1811, d.1817 age 6
William Nicholas: b.1813, d.1892 age 79; 1841 Census - farmer married with 2 children William (6) & Llewellin (3)
Sarah Nicholas: b.1814, d.1828 age 14
John Nicholas b.1818, d.1892 age 73; moved to Kansas, USA - details on separate page
Joseph Nicholas: b.1821, d.1900 age 79; my ancestor - details on separate page
Ann Nicholas: b.1822 d.1856 age 34; 1844 - 31st May, married Aneurin Jones (b.1822) of Bedwas and they had 4 children; After Ann died, Aneurin remarried and emigrated in 1864 to Wilkesbarr, Pennsylvania; He was a carpenter and architect (designing churches - see ref. below) but strangely ended up managing Central Park in New York from 1881 - very badly it seems as he was fired in 1884 (see NY Times ref. below)
Rees Nicholas: b.1823, d.1909 age 86; 1841 Ag labourer on father's farm; 1851 Assisting on father's farm; 1901 age 78 farmer in Mynyddyslwyn with wife Sarah (66)
Thomas Nicholas: b.1825, 1841 Living at 'penyquarry1 farm with parents; 1861 Draper and Grocery shop owner in Gelligaer married to Ann with 2 sons, 2 step-daughters and 2 servants - one being a Rachel Walters from Mynyddyslwyn, maybe related to Thomas' mother. No other record.
Daniel Nicholas: b.1827, d.1907 age 80; 1851 Assisting on father's farm; 1861 Farmer of 40 acres next to father's farm at Pen y cwarra; Married to a Sarah Richards with 2 young sons William and John
Margaret Nicholas: b.1829, d. 1873 age 40; 1851 Assisting in the house on parent's farm; Married Sep 1854 to Lewis Richards, Newport Mon 11a 259; Died Jun 1873 as Marageret Richards 44 Newport M 11a 13; Had 8 children
Sarah Nicholas: b.1832, d.1909 age 77; 1851 Assisting in the house on parent's farm; Married Sep 1875 to Lewis Richards, formerly her sister Margaret's husband, Newport Mon 11a 297; 1881-1901 Living with Lewis Richards who now owns Pen-y-cwarel farm (160 acres)
Llewellyn Nicholas: b.1835, d.1903 age 68; 1851-1871 Assisting on father's farm; 1881 Railway plate-layer, living at Bunnau Mill, Mynyddyslwyn with wife Ann (Richards) and 3 children; 1891 Farmer on Costell Farm, Mynyddyslwyn, living with wife Ann and 5 children; 1901 Railway plate-layer living with son and 2 daughters.

Sources:
Phyllis Poynter - email communication and kind permission to reproduce photograhs
Ancestry website: http://www.ancestry.co.uk/
IGI Batch Numbers website: http://freepages.genealogy.rootsweb.ancestry.com/~hughwallis/IGIBatchNumbers.htm
Glamorgan Parishes map: http://www.genuki.org.uk/big/wal/GLA/GLAImgMap.html
Aneurin Jones: Farrell - Burke Family Tree on Ancestry.com
Aneurin Jones church design - http://www.rootsweb.ancestry.com/~nyunywh/upstatenywelsh/ebenezer.html
Central Park NY Times article on Aneurin Jones: http://query.nytimes.com/gst/abstract.html?res=F10E17F73C5D10738DDDAF0A94DD405B8584F0D3